How can a campaign be designed to promote the twin studies research, in the context of a twin convention? 
TWINGENUITY
is a campaign I designed to promote twin studies and research. My goal was to disseminate information about the twin studies and 
how twins and non-twins can benefit in the research - 
it would aid researchers in looking for cures for cancer, and understand causes of autism and other mental disorders. This project was intended to be showcased in a twin convention.  
To achieve my goal, I interviewed a group of students who participated in the studies - I wanted to get to know about their insights about the research. Based on my research, obtaining information was crucial. For my show, I've created a slipcase each containing a box that will each have an informative brochure, a game poster, a sticker and a micro game. The posters are summarized from the booklet, and stickers are handed out to the spectators. The micro game is a memory game that resembles what my twin sister and I played when we both were test subjects for a twin study research at the University of Chicago. This project inspired me to collaborate with more non-profit organizations and eventually develop a passion for typographic studies including large customized hand-lettering and designing typefaces.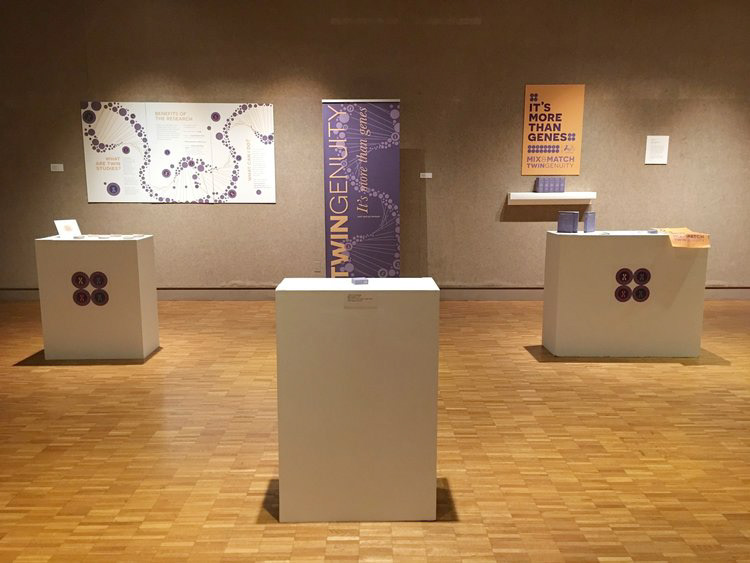 "Graphic Designer, Tiffany Joy Ignalaga, is of a Filipino descent and was raised in Bahrain. This cultural diversity and identity infuses her work that is largely research based... such a center would focus on separation anxiety as wells as diseases ad anxiety disorders. A twin herself, (Ignalaga's) research is buoyed by personal experience and her close relationship with her sister." 

- 
Katie Geha, Director of Dodd Galleries at the Lamar Dodd School of Arts, University of Georgia, Athens, GA.